LPFF Guest of Honour 2019: Lina Bembe!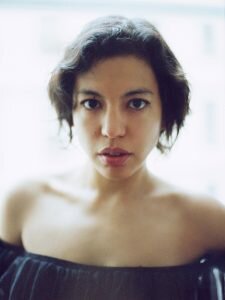 We want to highlight and celebrate the richness of bodies and amazing people making these films we screening at at our London Porn Film Festival and we are proud to welcome this years Guest of Honour.
Over a cup of coffee during the festival we chatted with Lina a bit more.
RJ: You're part of a specially curated panel looking at sex education and porn as pedagogy. You're an experienced performer and work with Sex School. Tell us more about it. What was the catalyst? How did it begin?
LB: Working porn or any other kind of sex work inevitably educates you and normalizes so many conversations about sex and sexuality that are really difficult to have in many other spheres. The way things are today, porn is one of the few avenues we have at hand to openly confront explicit depictions of sexuality. So, although for most porn films, education isn't the ultimate goal, the potential exists and many people in the industry are quite eager to explore this dimension. In so many ways this is also part of an overall effort to fight the stigma and typical misunderstandings about the complexity of porn and how sex education can go way beyond whatever we were taught in a high school classroom.
RJ: What was your own early sex education like? What would have made it better?
LB: I'd say that my early sex education was basically non-existent. I was a victim of the cliches of bad sex education. All I learned was about pregnancy, 'wet dreams' and gruesome STD pics. Everything else I had to figure it out on my own. What would have made it better? A sexual insurrection. A radical change of paradigms in terms of gender diversity, roles, sexual preferences, relationships, pleasure, emotions, safety, etc.
RJ: As we've discovered with recent protests against LDNPFF hosting a panel around sex education, there is a lot of panic around porn being damaging and inappropriate for young people. What do you say to that?
LB: I'd say that these fabricated moral panics are lazy and irresponsible. Porn is a scapegoat many love to point to, out of their own shame and inability to talk about sex in honest, open ways. I'd love for people to be more aware of this, because that would also help porn consumers be more critical of the porn they consume and support more diversity. Due to the fact that porn is so easy to watch these days, it's really easy to overlook the fact that watching porn requires education. When people don't know what the deal is and are deprived of adequate sex education or shame-free conversations about sex, then it's easy to believe that pornographic fantasies can happen in real life.
RJ: Could you talk a bit about your own curated programme? Perhaps a little more about the 'misguided' ways that people learn from pornography and the consequences of that?
LB: The programme is quite heterogeneous. There are some films that are a bit of a 'how to' for certain taboo sexual practices, but there are also other films that go beyond the typical fields of sex education and show other aspects about sex that can happen and are important in real life, such as intimacy, communication or body-positivity. Questions of visibility, and body or pleasure ownership are also present in this curation and I find them deeply important. They can potentially provide the validation many people need and can only find in very limited spaces, something that's deeply educational.
RJ: You have been instrumental in creating a resource for adults who are interested in learning more about sex, but what are some other resources you recommend that are a little off the beaten path?
LB: I think that at this point most resources are quite independent and operate off the beaten path using whatever resources they have at hand, either on the internet (podcasts, crowdfunding platforms, sex shops, social media, etc) as much as they can get away without censorship, or giving workshops wherever possible. Many queer activists also fulfill super important educational roles without calling themselves educator. People like Ericka Hart, Afrosexology, Tristan Taormino, Nina Hartley and Midori come to my mind right now. Also Sadie Lune who's part of Sex School and has been a sex worker for over 20 years is incredibly knowledgeable on so many topics about sex and sexuality. In sum, there are lots of incredible, independent resources out there that tap on many aspects of sex education, we need to keep our eyes open and look them up!
RJ: What have you learned from performing in porn? What has changed for you? What understanding could you not have foreseen?
LB: I've learned so many things from performing in porn! But if I had to sum them up I think the most valuable learning has been coming to terms with who I am as a sexual creature in full honesty. It has helped me be unapologetic about my body and desires. Doing porn has also helped me a lot to strip away so many layers of internalized shame and misogyny, you know the typical lies heteropatriarchal systems want you to believe. Doing porn has also helped me better understand how politically profound are these changes and the fact that more unbiased sex education, sex workers rights and more shame-free overall conversations about sex would basically imply a massive blow to the current capitalist, heteropatriarchal dynamics we live in.
RJ: Can you tell us a bit about some of your favourite scenes you've shot recently? Why did they work? What makes a good, ethical set?
LB: Tease Cake by Poppy Sanchez, Atrophy Portraits II by Four Chambers, Kitchen Scene (Reclaiming my Image) and Ritual Waves (upcoming) are my recent favourite scenes. Past work that is very dear to me is Tribute (Max Disgrace), Neurosex 3 (Eric Pussyboy), Fluidos Sudakas (Fluidos Sudakas), Recursion II (Four Chambers) and my scene with Mad Kate for Goodyn Green's Shutter II. All these films are very different and are special in different ways, but they all reflect the work of talented individuals committed to their art, their politics and who on top of that have very interesting things to say. Works like Fluidos Sudakas, Neurosex 3 and Reclaiming my Image's Kitchen Scene reflect the vision and the coming together of marginalized communities. I personally see them as different expressions of collective self-defense. Their political fierceness stems from a place of taking care of each other.
There's no single formula for a good, ethical set. It really depends on the context of the production and under what conditions films will get done. However, I'd say that the welfare of the most vulnerable people involved in a film (mostly performers but definitely crew as well) should be a top priority. Transparency, mutual respect, professionalism, consensual practices and appropriate accountability mechanisms are key.
RJ: So what's next for Lina Bembe?
LB: I'm currently gathering funds to finish my first film Ritual Waves and look forward to working on an ongoing basis on my own film projects. To achieve this goal I started an
OnlyFans
profile. Projects I'm part of are
Sex School
, the
Ersties Podcast
, the menstrual tracking app
Clue
(I write for their Latin American and Spanish readers), plus a very recent photographic project of co-creation with fellow Berlin-based sex workers, there's plenty of good pics to come!!
Cheers Lina, we are big fans and so proud to have you as our Guest of Honour this year!
Do not miss:
Sex Education: It Gets Wetter? Panel w/Lina Bembe, Max Disgrace and guests, Saturday 18:00, followed by  Lina Bembe Curation at 19:30
Social Media : IG & on Twitter: @linabembe @sexschoolhub
Facebook: https://www.facebook.com/sxschoolhub/